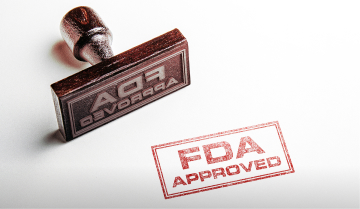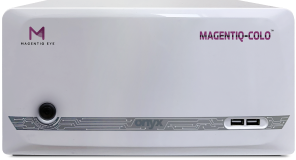 Haifa, Israel – July 25, 2023 – MAGENTIQ-EYE LTD., an Israeli based technology company founded in 2014, announced today that the US Food and Drug Administration (FDA) has approved marketing of MAGENTIQ-COLO™ according to Section 510(K). The device, which offers the gastroenterology community and its patients a significant increase in Adenoma Detection Rate (ADR), the best performance known today, will be available in the United States in the coming weeks. The FDA clearance comes on the heels of the European CE Mark and Israel AMAR approval which were received in mid 2021, opening doors to one of the most significant markets for this category of medical devices.
According to the National Institutes of Health, in the United States, Colorectal Cancer (CRC) ranks as the third leading cause of cancer-related deaths. CRC usually originates from the presence of polyps or other precancerous growths in the colon or rectum which can be detected during colonoscopy, a screening and surveillance process which involves inserting an endoscope equipped with a camera at its tip through the rectum and navigating along the entire length of the colon in search of abnormalities.
Although colonoscopy has become the standard of care in most developed countries, with 15-20 million procedures performed annually in the United States alone, high missed rates and undetected adenoma during colonoscopy procedures means that even patients that are being regularly screened are still at risk of developing colon cancer. A missed polyp can lead to interval cancer which account for approximately 8-10% of all CRC in the US, translated to over 13,500 (!) cancer cases that could be prevented every year with better detection.
In a comprehensive study performed in 2022 across 10 leading medical centers 29 endoscopy experts, and more than 950 patients, MAGENTIQ-COLO™ was validated as the best preforming AI solution in the category, increasing ADR by 26% relatively (7% in absolute values) which is translated to a 21% decrease in CRC occurrence and 35% decrease in patient mortality.
"FDA clearance is a major milestone, and we are very proud to join only a handful of companies in the field of AI aided colonoscopy to be granted this approval. Our next step will be to pursue opportunities in the US market as we look forward to increasing the accuracy of detecting early signs of CRC and taking part in saving the lives of thousands of Americans," says Dror Zur, founder and CEO of MAGENTIQ-EYE. "Although the sense of accomplishment is strong, I believe this is only the tip of the iceberg for AI in gastroenterology, so stay tuned for new products and features from us coming soon."
MAGENTIQ-COLO™ will be marketed in the US through a local subsidiary which is now being established.
About MAGENTIQ-EYE Ltd.
Founded in 2014, MAGENTIQ-EYE offers a groundbreaking AI aided colonoscopy solution that offers the best performance known today. With worldwide recognition from the gastroenterology community, and dozens of procedures performed every day with the assistance of MAGENTIQ-COLO™, we are setting the new standard of colonoscopy, and saving more and more lives.