Why MAGENTIQ COLO™ ?
Superior product performance & unique features
At the forefront of technology with advanced features today, and in future versions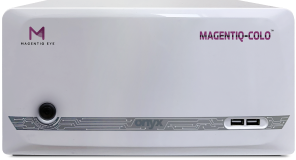 Size and characterization estimation in real-time with no user intervention
Seamless operation with characterization and size estimation appearing immediately after detection, with no required user intervention or a tool appearing on the image.
Outstanding frame-wise sensitivity
Bounding boxes on almost every frame in which polyps appear, even if the polyp appeared only for a short time, giving a higher probability that doctor pays attention to every detected polyp
Designed to provide both clinical & financial values
Highest detection capabilities, attractive business model.
Monthly rental business model
Low upfront
cost
Always updated software
Flexible
commitment
Automatic
software updates
Two hardware options
Processor-only:

computer unit attaches and mounts to existing hardware, for both space-and cost-saving

On a cart:

a fully equipped portable cart with computer processor & touch screen
Groundbreaking comprehensive study & leading hospital validation
Efficiency is independent of clinic medical equipment, endoscopist's experience
and geography
View study
Accuracy validated in a diverse
comprehensive study
10
leading
medical centers
Demonstrated successful
in 16 renown clinical locations in Israel, Europe and US

Hadassah Medical Center, Israel

Assuta Medical Centers, Israel (3 locations)

Shamir Medical Center, Israel

Haemek Hospital, Israel

Mainz University Medical Center, Israel

GastroZentrum Lippe Klinik, Germany

Diako Mannheim, Germany

Theresienkrankenhaus Mannheim, Germany (2 locations)

Radboud University Medical Center, The Netherlands

John Hopkins University, USA

Columbia University Medical Center, USA

MetroHealth System, USA

Erlanger Health System, USA (2 locations
Coming in the next software update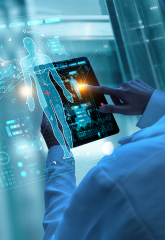 Improved post-procedure reporting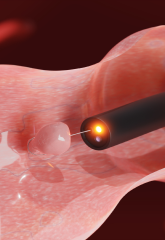 Withdrawal time calculation
Future versions of MAGENTIQ-COLO™
Future versions will enhance advanced reporting, including withdrawal time, level of cleansing, landmark detection, colon segmentation and reporting directly into patient EHR.